STRATTON: FIRST INTO ACTION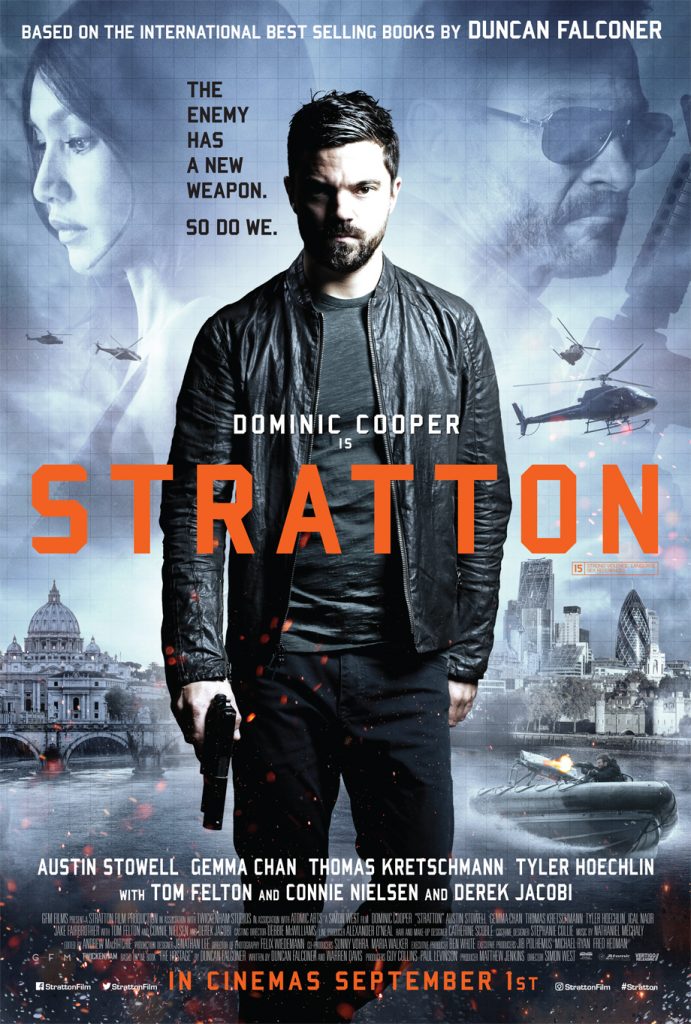 GENRE: Action Thriller
STATUS: Completed
RELEASE DATE: 1. September 2017 (UK)
DIRECTOR: Simon West (Con Air, Expendables 2, Lara Croft: Tomb Raider)
WRITERS: Yale Hannon (Screenplay), Joe Lynch & Yale Hannon (Story)
CAST: Dominic Cooper, Gemma Chan, Austin Stowell, Tyler Hoechlin, Tom Felton, Thomas Kretschmann, Derek Jacobi, Connie Nielsen, Jake Fairbrother
PRODUCERS: Matthew Jenkins, Ileen Maisel, Lawrence Elman
PRODUCTION COMPANY: Amber Entertainment, Promethean Productions, GFM Films
SYNOPSIS:Crash! Two men in scuba gear hit a deserted beach. The cliffs are the next challenge and at the top we breathe and see Stratton, an SBS operative for MI5, specifically chosen for this toughest of missions and Marty, his American counterpart, a Navy Seal who is as tough as nails. These two ooze confidence and strength. They scope the target; a laboratory complex in Iran manufacturing biochemical weapons, capable of wreaking havoc shouldthey get into the wrong hands.
Stratton & Marty make it into the lab with the help of their comms expert back at base, Aggy. As they scope the lab they can see that the refrigerated cabinets are there, sure enough, but they're empty. Someone was expecting them. Getting out of there is very different to getting in; Stratton and Marty are literally fighting for their lives whilst looking for any evidence as to how their operation was compromised. In the mayhem Marty is badly wounded as they retreat to the waiting helicopter and dragging him to safety, Stratton knows his friend is not going to make it.
Back at base and mourning his colleague, Stratton meets the big boss, Sumner; a woman better equipped than anyone to head MI5. She has received intel that Barovski, a former Soviet operative and one time lover that she seduced to turn him into an informer, is behind the theft and has gone rogue, supplying deadly chemical weapons to whoever pays the most. He is currently in Rome and so Sumner deploys a team headed by Stratton. Included in the team is Hank, a Navy Seal replacement for Marty; the two worked together back in the day and Hank worshipped him, so despite Stratton's team talk he is all out for revenge and totally blows the team's cover, almost getting them all killed in the process and allowing Barovski an opportunity to escape.
Back in London and determined to find the source of the bio weapon, Stratton and Hank find the creator and force him to reveal where the weapon is headed. Hank and Stratton drive to the location and confront the brokers but it soon becomes obvious that their arrival has been compromised.
With the operation seemingly taking one step back for every two steps forward, Aggy manages to tap into Barovski's network using the remnants of the tech gear left during the failed mission. Extracting co-ordinates, Aggy's screen reveals the warlord's target…the City of London. With the deadly missiles loaded onto a boat currently making its way up the Thames & primed at their target, Stratton and his team must race against time to beat Barovski who always seems one step ahead of them.