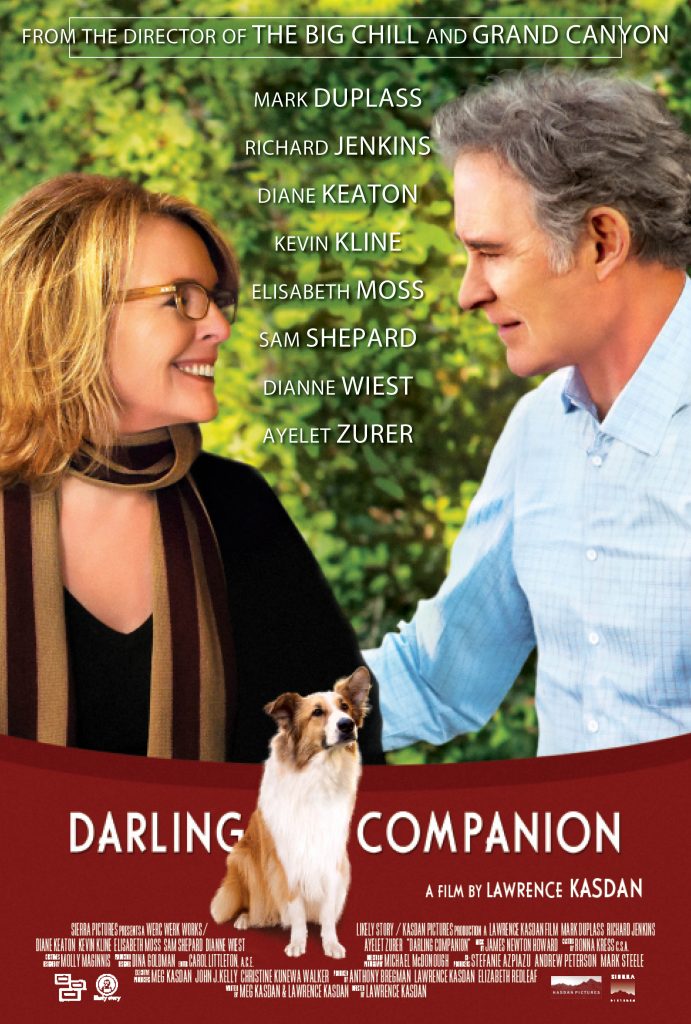 GENRE: Romantic Comedy
STATUS: Completed
USA RELEASE: April 20th, 2012 (Sony Pictures Classics)
DIRECTOR: Lawrence Kasdan
WRITERS: Lawrence Kasdan, Meg Kasdan
CAST: Mark Duplass, Richard Jenkins, Diane Keaton, Kevin Kline, Elisabeth Moss, Sam Shepard, Dianne Wiest, Ayelet Zurer
PRODUCERS: Anthony Bregman, Lawrence Kasdan, Elizabeth Redleaf
PRODUCTION COMPANY: Werc Werk Works, Kasdan Pictures, Likely Story
SYNOPSIS: DARLING COMPANION is the story of a woman who loves her dog more than her husband. And then her husband loses the dog. Beth (Keaton) saves a dog from the side of the freeway. Struggling with her distracted, self-involved husband Joseph (Kline) and an empty nest at home, Beth forms a special bond with the rescued animal. When Joseph loses the dog, the distraught Beth enlists the help of the few remaining guests and a mysterious young woman (Zurer) in a frantic search. Each memeber of the search party is affected by the adventure, which takes them in unexpected directions—comic, harrowing and oftentimes deeply emotional.